Case Study
AM Equipment
Product line branding
Oregon born and bred, AM Equipment is one of the country's top manufacturers of windshield wiper motor assemblies, boasting high-profile customers like UPS and Freightliner. They sought our help to increase market share for a secondary product line, fractional horsepower (FHP) motors: the kind used in applications like solar panel arrays, retractable RV stairs, animatronics, and others.
Challenge
Visibility for AM's FHP motors was limited to minimal traffic to a dated online catalog and the part-time efforts of sales staff. Adding to the challenge was the fact that the motors are widely viewed as a commodity, despite high engineering standards and exceptional product support. Still, margins were good, and additional sales would make a big impact on profits. AM also felt that positioning themselves to appeal to larger manufacturers could help the FHP motors get chosen as an OEM part in high-profile machinery.
Our Objectives:
Increase online visibility
Move AM's FHP motors away from being perceived as a commodity
Position the product line to better appeal to large customers
Transferring Brand Equity
The AM Equipment brand reflects a rich history of innovation, integrity, and good old fashioned hard work. Our goal was to take the reputation AM had built in their wiper assemblies, and transfer it to their line of FHP motors. Part of our solution was to draw more attention to the diamond in their logo, making it a symbol of their values. Since the diamond is imprinted on every motor, we asserted that, with time, it would become the blue-collar equivalent of "Intel Inside."
Leveraging the diamond's yellow color, we created a product brochure that was compatible with the parent brand but established a unique identity for the FHP motor line.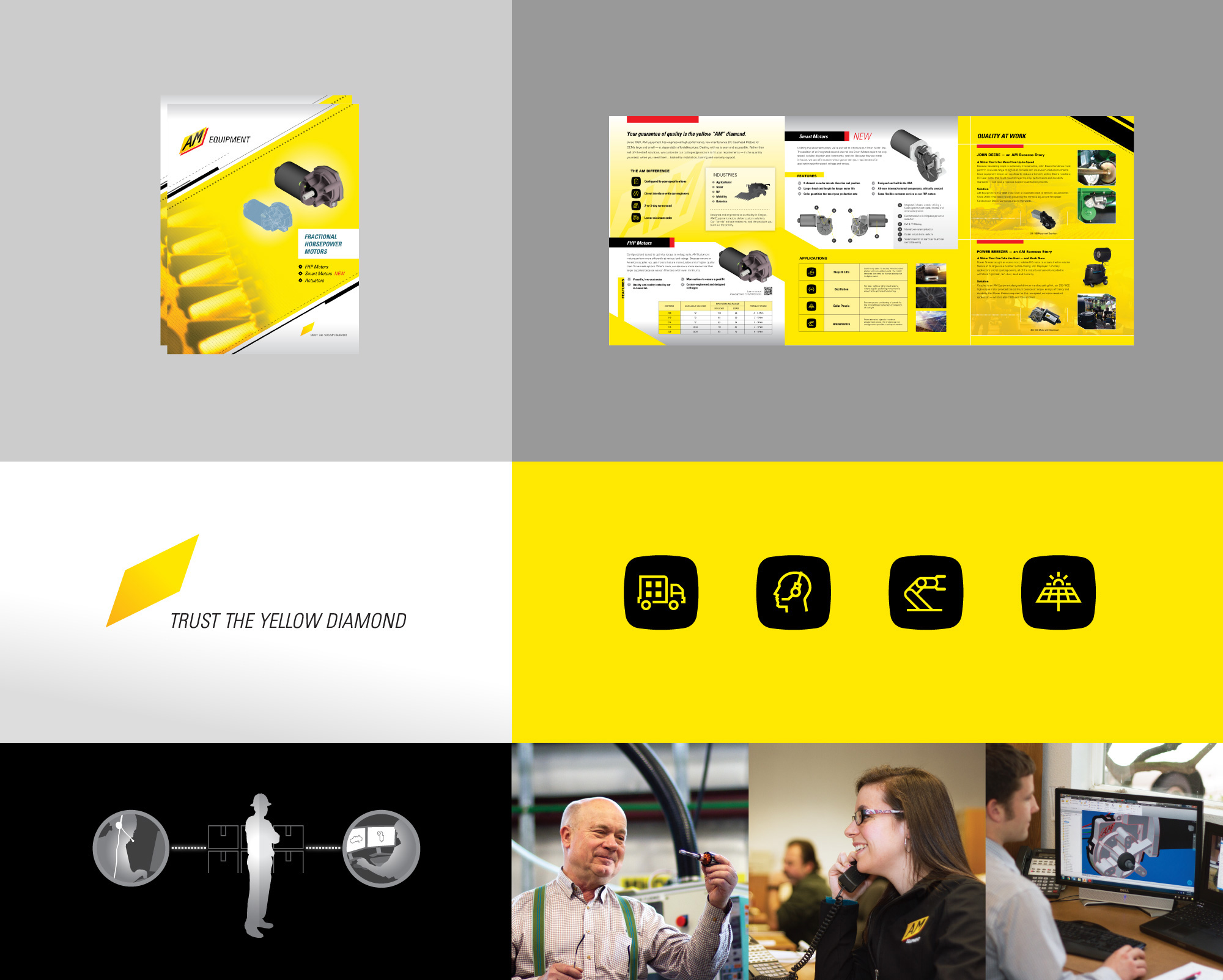 Getting Focused
We used a series of social posts as an initial vehicle for clarifying critical points of value and highlighting applications. This work included the creation of a set of icons and images that had utility in a variety of formats. Then we supported AM in delivering the messages consistently.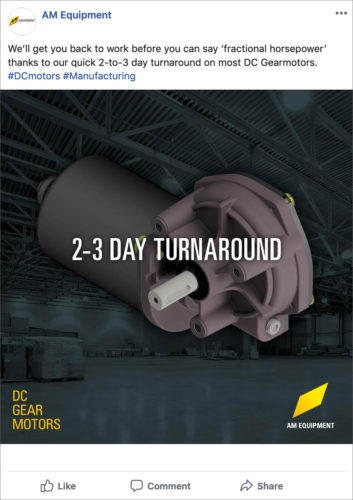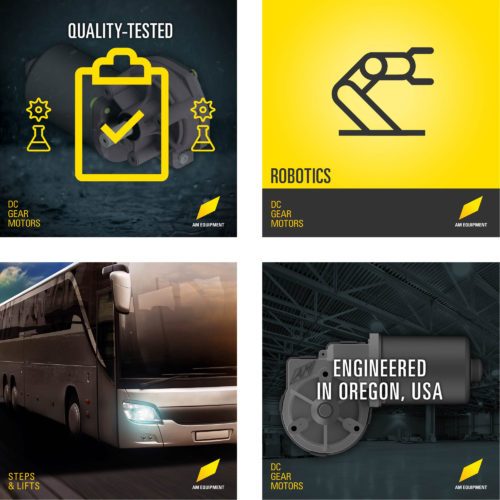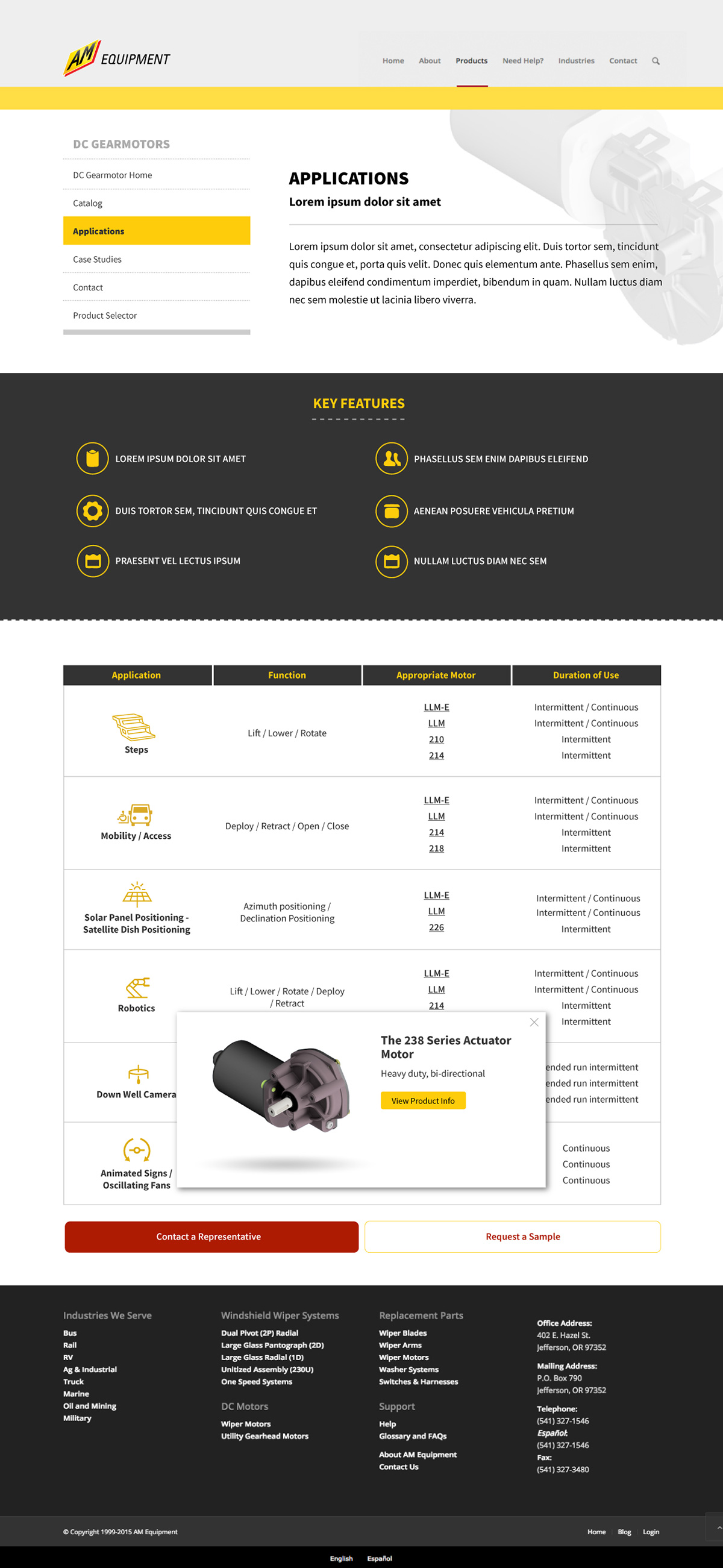 Improving the Digital Game
In addition to helping them get up and running on social media, we created a product brand video and designed user interfaces for a new section on AM's website. The latter included a product-finder feature that connected users with the appropriate motor based on their intended usage. Our goal was to quickly increase exposure—while meeting audiences with a better story and a better experience—and boost perceptions of the brand.
Results
We equipped AM Equipment with the marketing assets and advice they needed to continue growing their market share for FHP motors, and produced these outcomes:
68%
increase in LinkedIn followers
3
new major accounts attributed to brand video
35%
increase in tradeshow leads attributed to new marketing assets
"It's been a pleasure working with Cardwell Creative over the past year. They very successfully translated our list of desired deliverables into very high quality marketing materials, a company profile video and an effective social media campaign. ...A huge Thank You to the entire Cardwell team!"
Let's talk about your project.
We'll do a lot of listening, and always look to offer good advice. This could be the start of something great.
Get Started