Case Study
Freres Engineered Wood
Brand Refresh, Website Redesign
It takes a lot to survive—let alone thrive—as a wood products manufacturing company in Oregon. But Freres has done it for 100 years. They initially asked us to lead them through a brand audit and develop creative concepts to mark their move into a second century in business. We ended up designing a new brand identity system and providing full-service creative support through their centennial celebration, and beyond.
Challenge
While firmly established as a trusted company with a proud history, Freres felt their existing brand didn't reflect their innovative accomplishments and progressive approach. Change can be tough for a multi-generation, family-owned business, therefore solutions were needed that pointed to the future without abandoning the past. Freres also needed direction in refreshing a burgeoning new product line's brand while maintaining overall cohesiveness.
Our objectives:
Uncover and document the current company "DNA", then express it more accurately through the brand.
Position Freres as a leader, not only in developing forward-thinking products, but also in intelligently stewarding the environment.
Consult them in a way that showed respect for the company's proud history and its stakeholders, while providing clear and unbiased direction.
Manage the complexity of many moving parts within the brand to create consistency and clarity across all mediums.
Brand Design
We led the Freres executive team through our unique discovery process, where we clarified the ideas and values that have fueled their success. Then we went to work creating concepts that brought the visual brand into focus, while staying true to their legacy. This design process started with a new logo and tagline ("Innovation is Our Tradition"), but expanded into iconography for their primary product lines, and a new identity for their frontrunner, Mass Ply. The work culminated with a brand guide documenting strategic insights, copy samples, and usage guidelines. We developed a variety of supporting assets, including 3D visualizations of a modern Mass Ply building project.
Covering the Bases
With a large company like Freres the need for brand design support can be ongoing, requiring care to maintain simplicity and consistency. From ad campaigns to product labels to sponsorship collateral, we provide the guidance and production resources that allow them to stay focused on what they do best. This sort of collaboration allows a company to "level up" in terms of brand authority and reputation.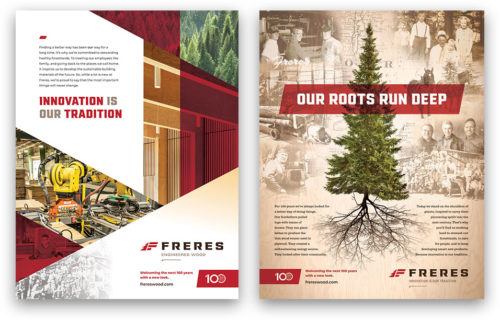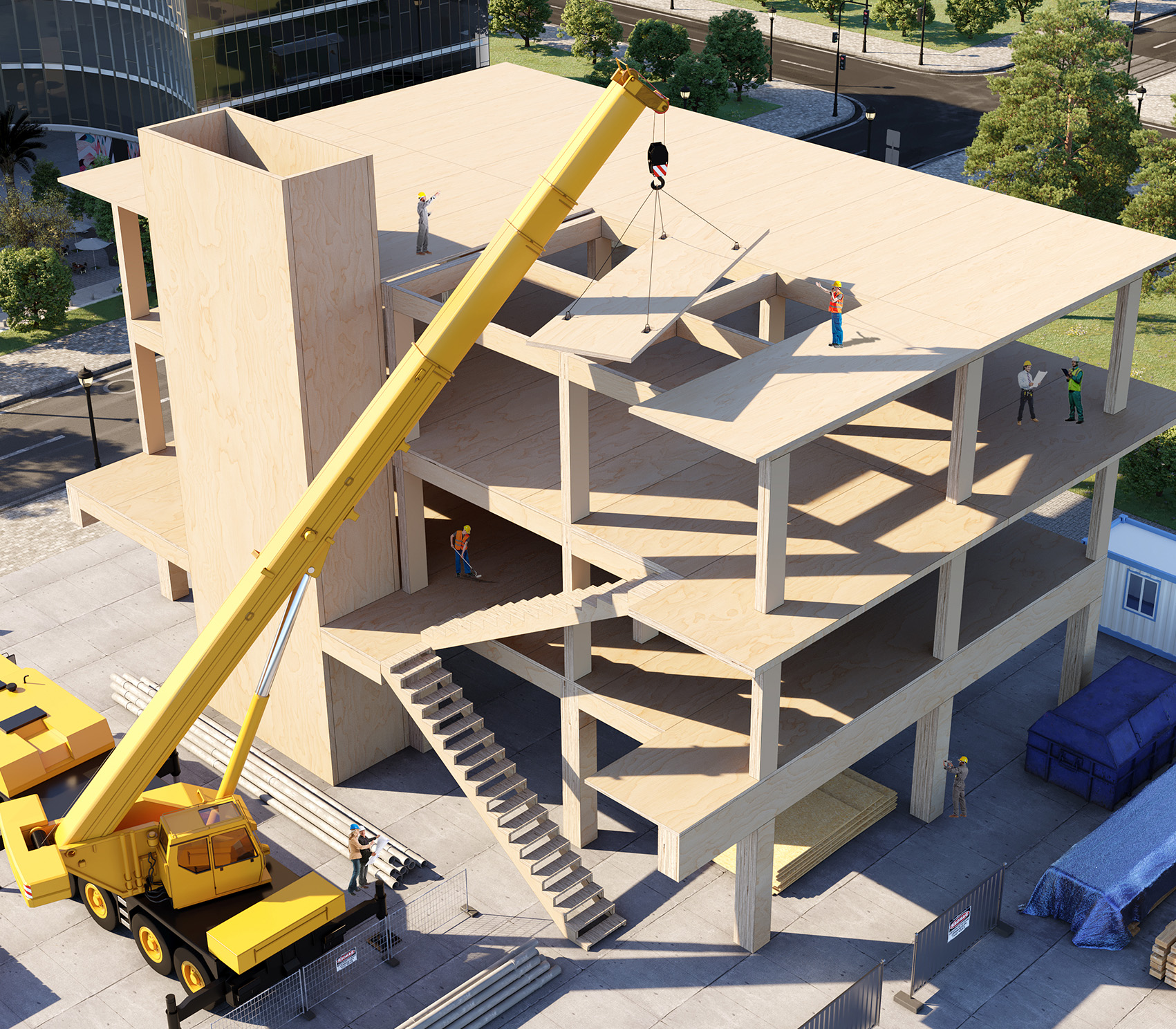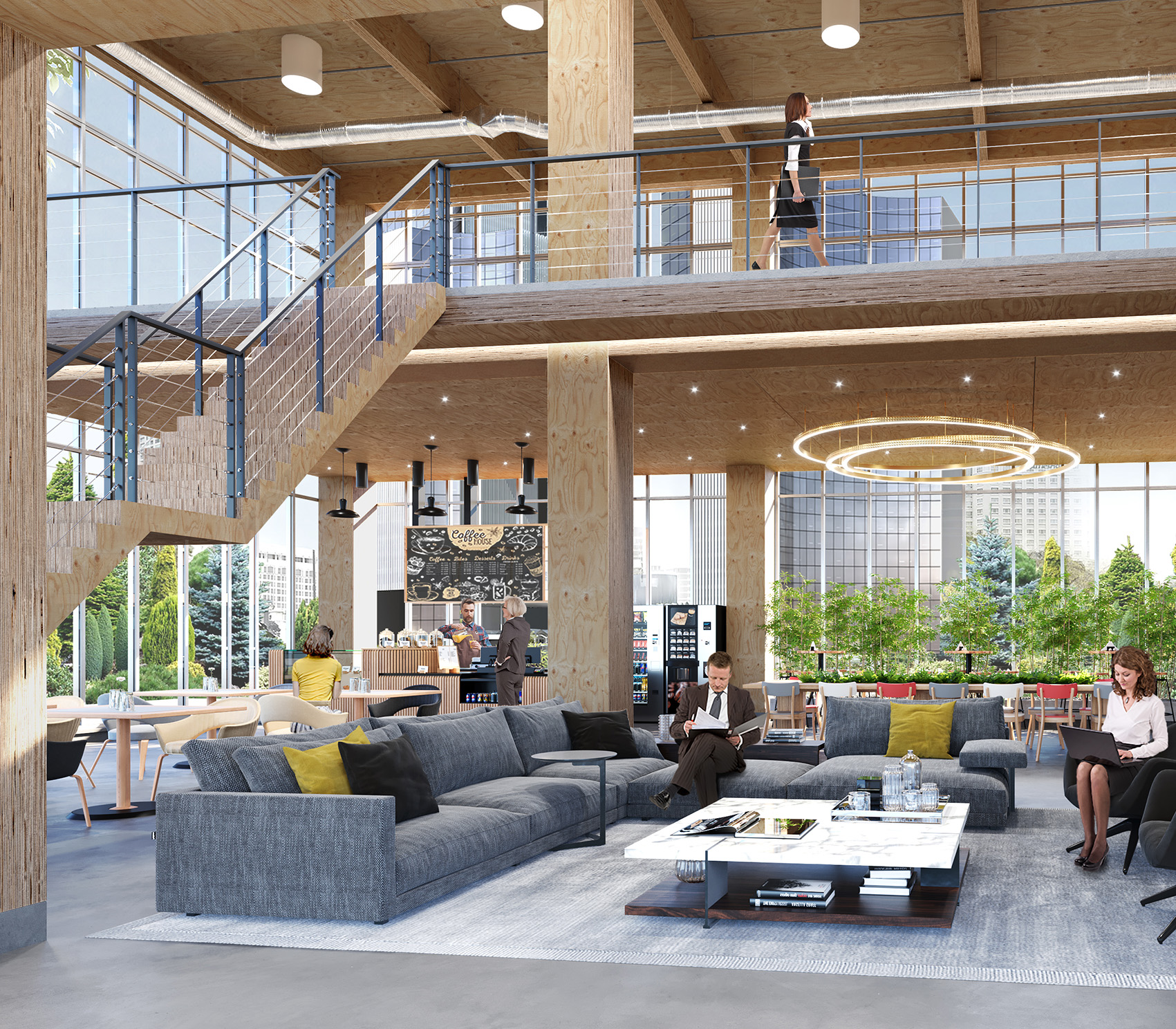 Website
With clear direction established for the core brand, we set out to create an online brand experience that was better aligned with Freres' current makeup: modern and forward-thinking, while industrial-strength. An initial audit helped us identify areas for improvement in the content structure, user interface, and codebase. We helped Freres focus more on the content their users really cared about, and reflected it in the site's navigation. We also brought more emphasis to their thriving Mass Ply product line, supported by an interactive animated piece that raises awareness of its applications in commercial construction.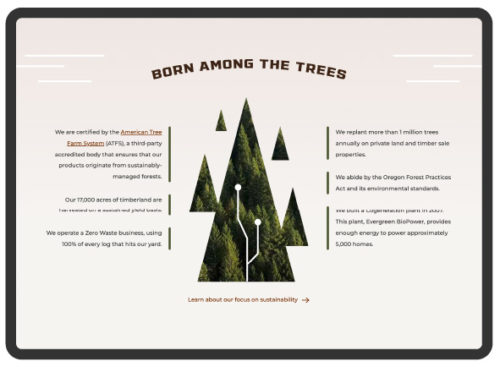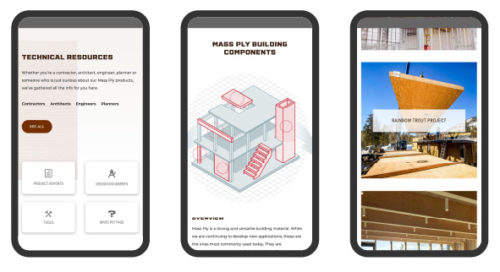 Centennial Celebration
We were honored to support Freres' centennial celebration by leading a variety of creative projects. This started with a simple and versatile mark to commemorate their 100 years in business, and included collateral for a VIP event, a history-honoring print ad, and an animated intro section for their website—all coordinating with and enhancing the impact of the main brand.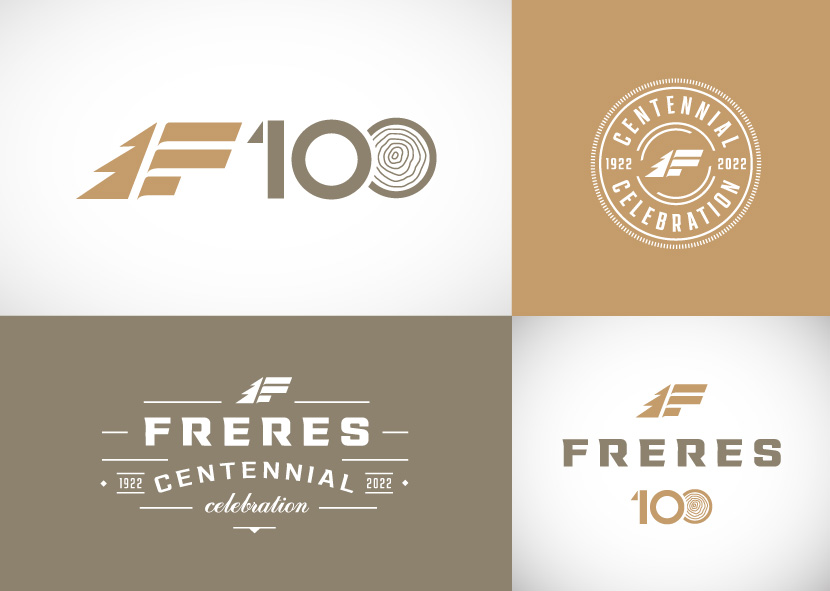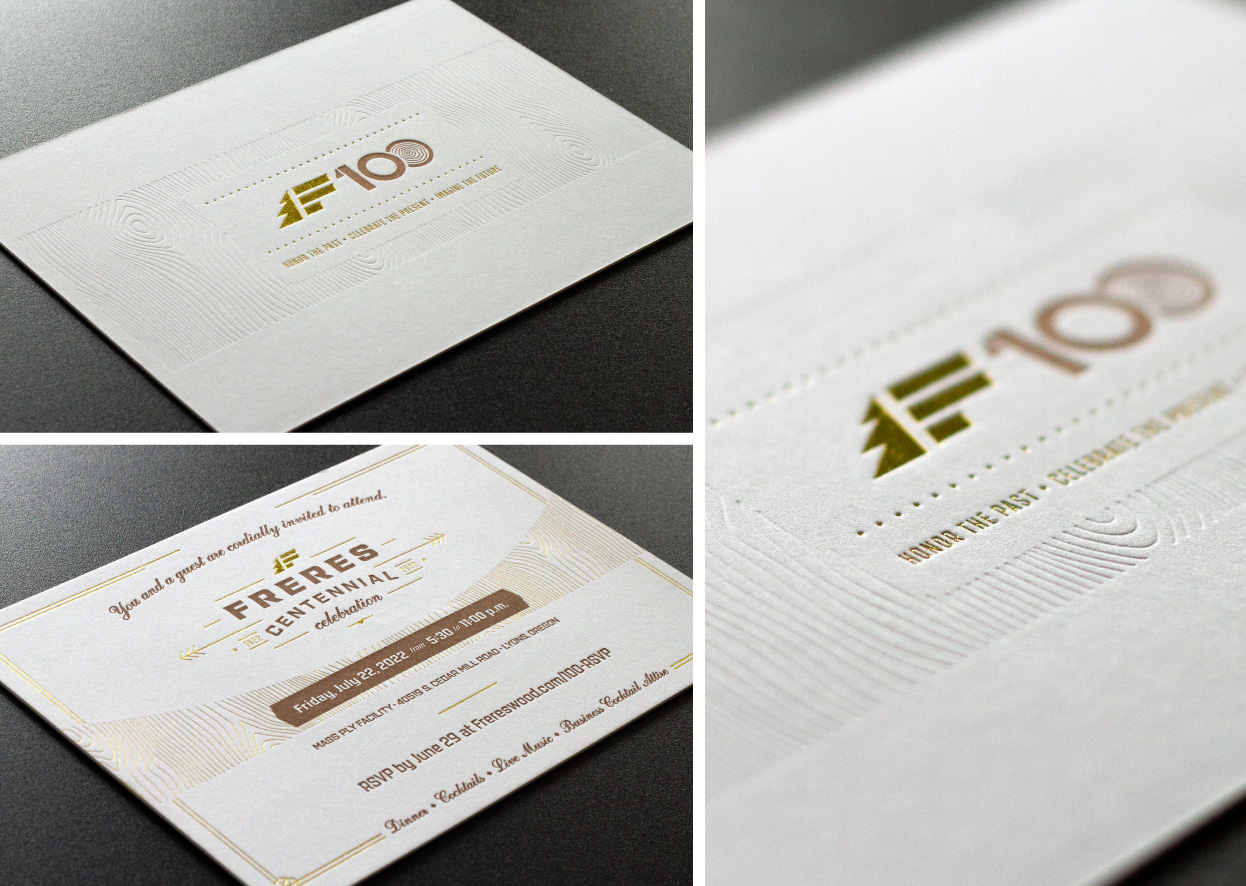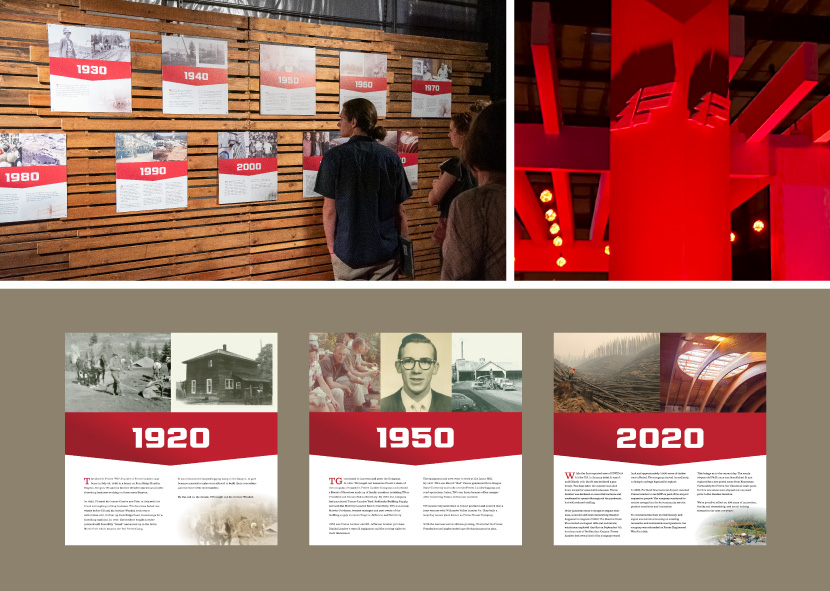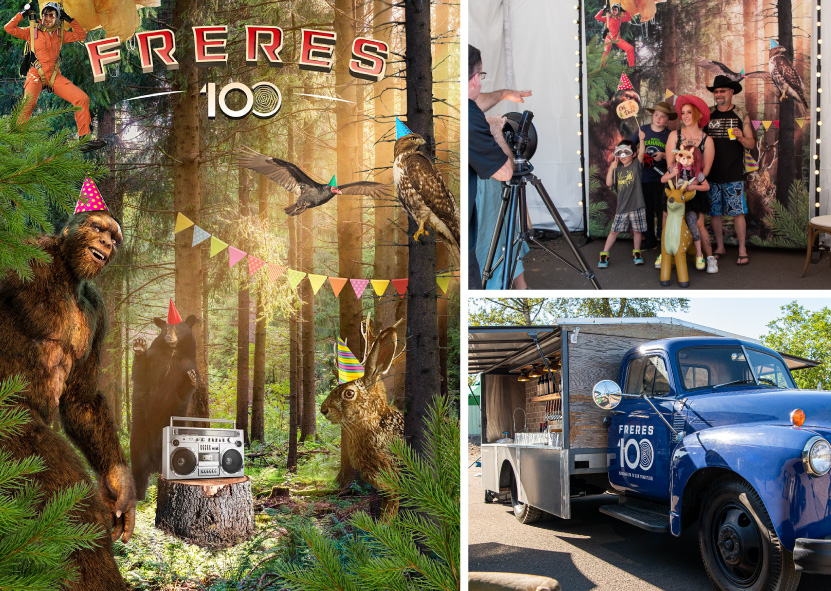 Results
Anecdotal feedback on the updated branding has been overwhelmingly positive, and confirmed our hope that it strikes a balance between tradition and progression. Here are some highlights of what we accomplished.
Created a brand that positions Freres as an enduring company known for developing innovative, sustainable products.
Designed an updated Mass Ply product brand that better positions Freres as a leader in the still-emerging Mass Timber construction industry.
Helped them speak diplomatically, but succinctly, to polarizing issues around climate change and environmental stewardship.
Improved their website performance from an "F" to an "A" score on GTmetrix.
Provided one-stop guidance and design support for a variety of interconnected brand media.
Let's talk about your project.
We'll do a lot of listening, and always look to offer good advice. This could be the start of something great.
Get Started